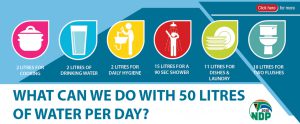 South Africa is an arid country, and is one of the 30 driest countries in the world.
South Africans consume approximately 237 litres per day, more than the world average of 173 litres.
Coupled with that, the country as a whole has not recovered from the 2014 drought, with dam levels dropping drastically in most parts of the country. Parts of Eastern Cape and Limpopo provinces have been severely affected by the drought with water resources becoming stressed.
The heat wave, exacerbated by the scorching sun is causing enormous evaporation of water from the country's dams and this has an adverse impact on country's water security.
In managing the current situation, the Department of Water and Sanitation is embarking on awareness drives to educate water users and businesses at large to work with government to reduce water usage and save as much water as possible.
These short to long term interventions take on a four-pronged approach which includes desalination, groundwater optimisation, water conservation and demand management and re-use optimisation.
In addition, water restrictions are being implemented by various municipalities across the country to ensure that there is reduced water consumption and that taps do not run dry.
The department continues to encourage all consumers to use water sparingly. Our joint efforts have the potential to yield significant water savings that would go a long way in improving water security for our country. #Savewater
To learn more please click here